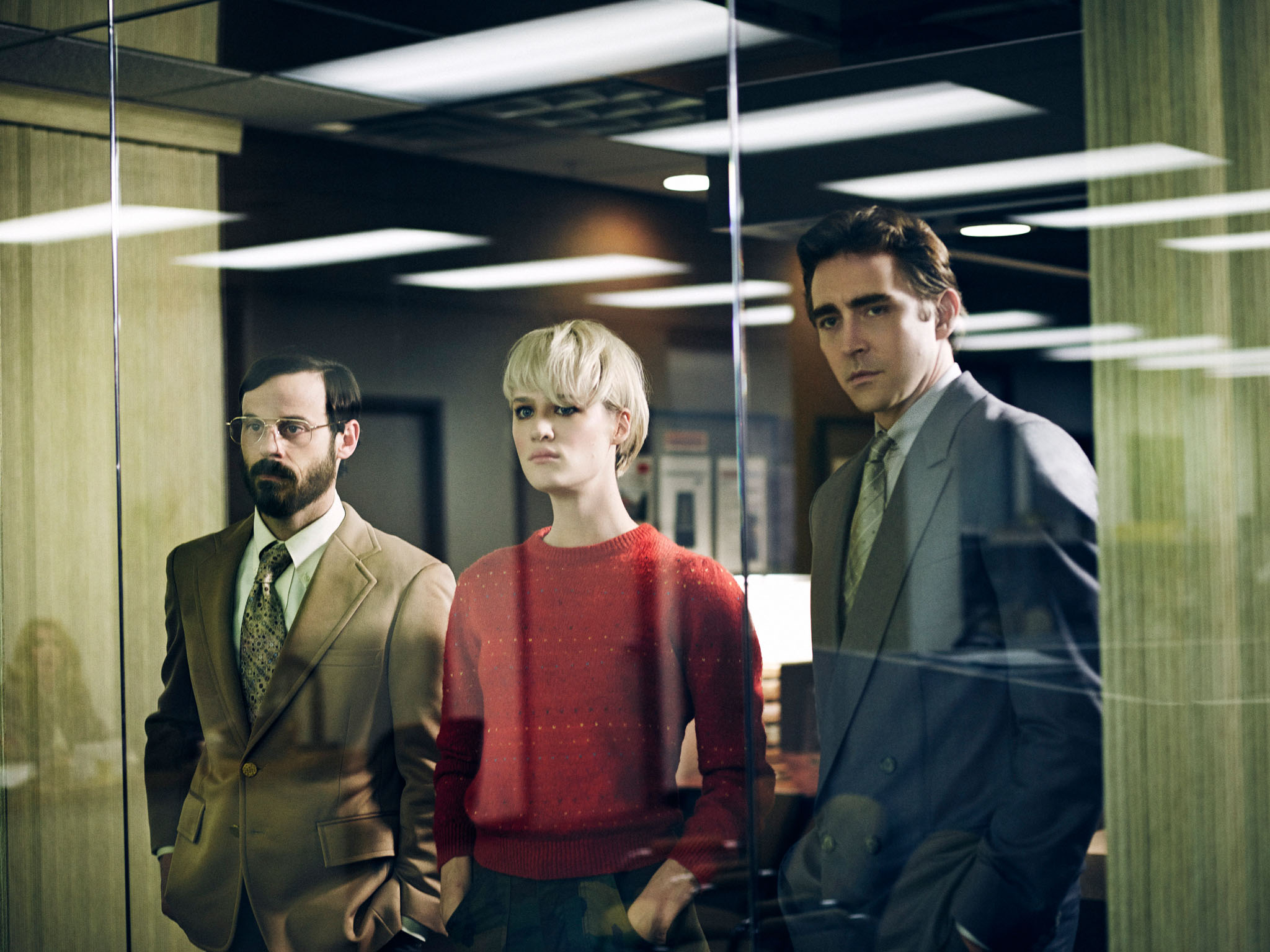 From YahooTV:
AMC said goodbye to Breaking Bad last year, and they're already prepping next year's Mad Men swan song. With the loss of the two series that put them on the map for award-winning original programming, it's time for a new series and a new star to shake things up on the network. Enter Halt and Catch Fire and its leading man Lee Pace, who's not letting the media pressure get to him.

"I'm a huge fan of Mad Men," Pace told Yahoo TV as we sat down with him to talk about his new '80s-set drama about the dawn of personal computers. "I think that Jon Hamm and Matthew Weiner… it's such an achievement that they made that show. It's a very special fictional creation. But it's nothing like this. Nothing."

And while Pace gave props to his personal TV favorites like Breaking Bad and Netflix's House of Cards, he didn't take this new gig just to follow anti-hero suit: "Joe's a character that I've never seen before on television," he said, referring to Joe MacMillan, his renegade former IBM exec character who sets out to beat the computer pioneers at their own game. MacMillan decides to reverse-engineer the IBM PC with help from his ragtag team, engineer Gordon Clark (Scoot McNairy) and prodigy Cameron Howe (Mackenzie Davis).

"I think he despises everything they stand for and the IBM corporate culture… you hear these crazy stories, which are true, of people in black or blue suits, modest coat and tie, white shirt, certain kind of haircut. It was the picture of corporate. I think he sees that and says, 'That's f—ed. It can be better than that, it can be more than that, and it needs to be. It has to be.' That's why he picked people like Gordon and Cameron to go on this journey with him because he's not interested in doing it that way.

"I want there to be something inspiring about him. It's not about the money. It's never about the money. Money's not interesting. Ideas are interesting, culture is interesting, and that's what he's hoping to be part of.

"He's just risked everything to make this happen. This is the big moment of his life, this is the make-or-break, he's got it all on the line. He's taking this huge, huge risk, and he knows it will be transformative — he just doesn't know how. He has an idea for how he'd like it to be transformative, but life is life, and Joe is not one of the guys on TV that always succeeds. There are those guys on TV that've got the gun, they know 12 languages, they always get the girl. Joe's not that guy. Joe is a hustler."

And Pace is at a similar point in his career, returning to TV after a five-year hiatus, taking a chance on a third television series, while his film and theater career are stronger than ever. He's also treading into uncharted waters, creatively, considering his two previous shows, Pushing Daisies and Wonderfalls, were both created by the same man, Bryan Fuller.
The article came with a beautiful promotional high-quality shot, which has already been added to our gallery.
Halt and Catch Fire premieres Sunday, June 1 at 10 p.m. on AMC.