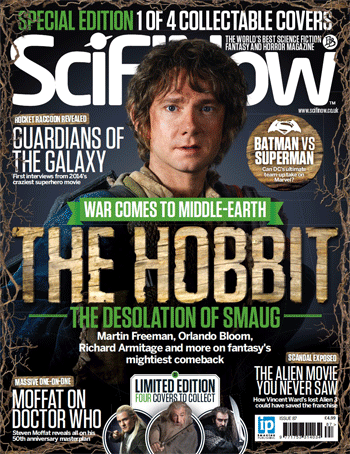 Issue 87 of SciFiNow is now out with four exclusive covers for The Hobbit: The Desolation Of Smaug. You can choose between Bilbo Baggins (Martin Freeman), Gandalf the Grey (Sir Ian McKellen), Legolas (Orlando Bloom) and Thorin Oakenshield (Richard Armitage). Each one has been given a treatment unique to the world their character inhabits, from the creepy Mirkwood of Bilbo to the luxurious gold of Legolas.
Lee Pace fans will most be interested in two articles – The Hobbit and Guardians of the Galaxy. Cats and Books has a nice summary of what we can read inside the magazine.
The Hobbit spread includes interviews with Martin Freeman (Bilbo), Lee Pace (Thranduil), Richard Armitage (Thorin), Orlando Bloom (Legolas) and Luke Evans (Bard the Bowman). Armitage says Thorin gives Thranduil a piece of his mind: "When the dragon came and they needed help, the elves didn't intervene — for very good reason actually, but at the time it felt like a huge betrayal, and that's a burning anger in him. He gets to stand in front of Thranduil and tell him what he thinks of him." As we know, Thranduil counters by locking the dwarves up in his prison. Pace explained Thranduil's motivation for standing in their way: "These 13 dwarves come through my woods; I'm not going to let them go wake up a dragon. It's like, 'No, kids, we're going to keep you here!' You don't wake up a dragon unless you know how to kill it, and they don't." He has a point. So he's locking them up for their own good, the impetuous dwarves!

Bloom says the Mirkwood elves aren't as cuddly as the ones who live in Elrond's Rivendell: "Legolas was always different from the Rivendell elves, so Legolas comes in and he's a bit more… I don't know, he's got a bit more of an edge. and I think Thranduil has an edge. They're not messing around." If you've seen the clip from MTV's European Music Awards you know Bloom isn't kidding (if you haven't seen the clip go to this post from TheOneRing.net).

The magazine also has an article on Guardians of the Galaxy. Photos are ones we've seen before, so nothing new there. Michael Rooker (Yondu) and Lee Pace (Ronan the Accuser) are interviewed. After playing the cool and regal Elvenking Thranduil in The Hobbit, Pace was in for something entirely different when he stepped onto the set of Guardians. In the interview he said: "'Very un-elfy, right guys?' He's a real psychopathic beast. I'm having the best time playing it." – and – "I kept looking over at [director] James Gunn when we were shooting. 'Too much? Should I pull it back?' He's like 'No, more, go for it!'" Subtlety is not Gunn's strong point.

Guardians will apparently also be colorful, literally. Both Yondu and Ronan are blue in the film. Rooker apparently liked it, because he said: "The blue is simple, it's beautiful. The colours that we use in Guardians are just exquisite. When everything is put together — when you have wardrobe on and the lighting's going — man oh man it's beautiful, it's going to look fabulous." That sounds almost poetic, and then you realize he's talking about the skin color of some badass aliens.
You can grab your copy of the magazine here.
Update on December 1, 2013:
Thanks to my friend Marieke I now added SciFiNow magazine scans to our gallery.










Gallery Link:
Magazine Scans > SciFiNow Issue 87 (2013) – The Hobbit: The Desolation of Smaug
Magazine Scans > SciFiNow Issue 87 (2013) – Guardians of the Galaxy