In November 2013 issue of F*** magazine, there's a new interview with Lee Pace and Richard Armitage (Thorin). Lee discusses the Elvenking's personality, and tells us more about the filming process. He also mentions he's seen Halt & Catch Fire pilot recently and "it's really good".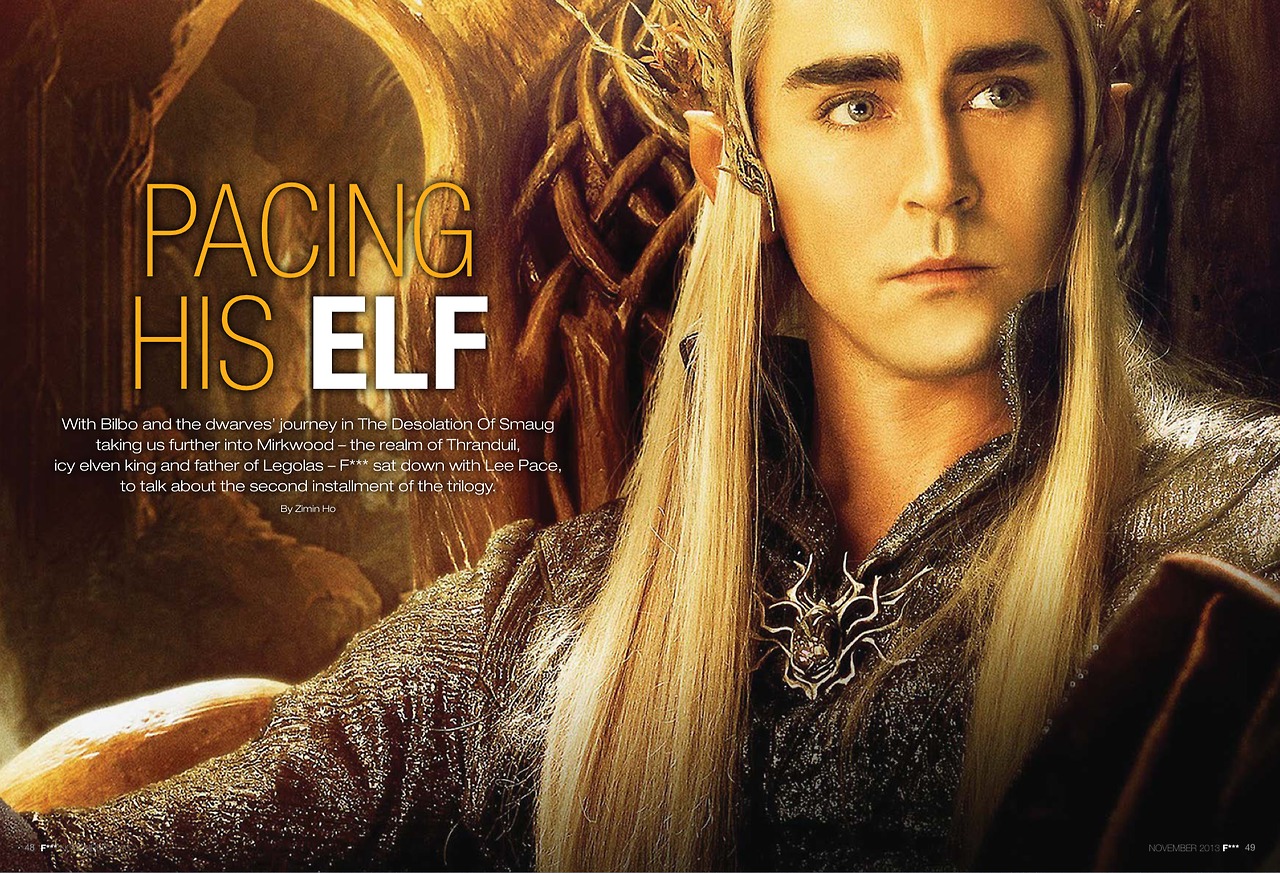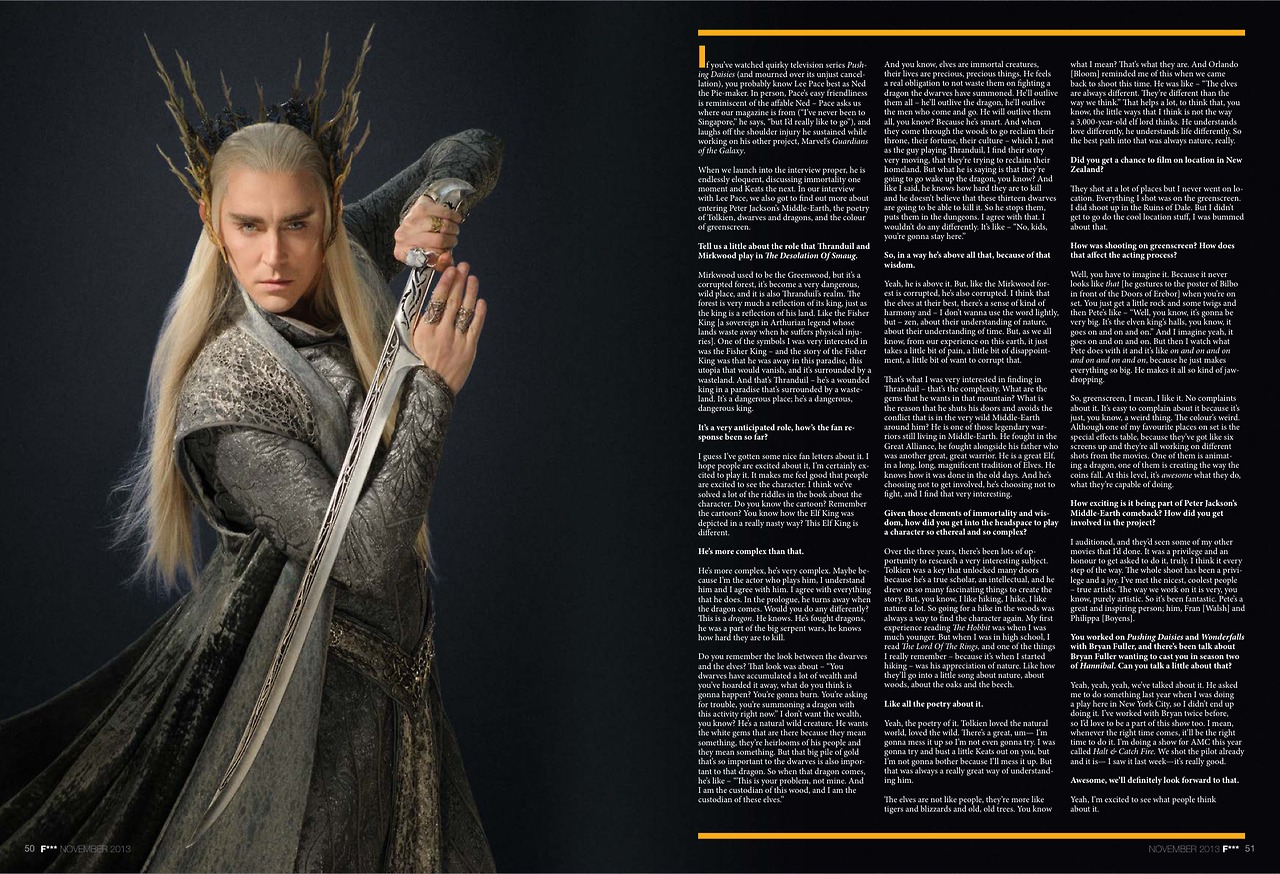 I retyped some questions for you. Full interview (I strongly recommend it) can be found in our gallery.
Tell us a little about the role that Thranduil and Mirkwood play in The Desolation Of Smaug.
Mirkwood used to be the Greenwood, but it's a corrupted forest, it's become a very dangerous, wild place, and it is also Thranduil's realm. The forest is very much a reflection of its king, just as the king is a reflection of his land. Like the Fisher King [a sovereign in Arthurian legend whose lands waste away when he suffers physical injuries]. One of the symbols I was very interested in was the Fisher King – and the story of the Fisher King was that he was away in this paradise, this utopia that would vanish, and it's surrounded by a wasteland. And that's Thranduil – he's wounded king in a paradise that's surrounded by a wasteland. It's a dangerous place; he's dangerous, dangerous king.

It's a very anticipated role, how's the fan response been so far?
I guess I've gotten some nice fan letters about it. I hope people are excited about it, I'm certainly excited to play it. It makes me feel good that people are excited to see the character. I think we've solved a lot of the riddles in the book about the character. Do you know the cartoon? Remember the cartoon? You know how the Elf King was depicted in a really nasty way? This Elf King is different.

Did you get a chance to film on location in New Zealand?
They shot at a lot of places but I never went on location. Everything I shot was on the greenscreen. I did shoot up in the Ruins of Dale. But I didn't get to go to the cool location stuff, I was bummed about that.

How was shooting on greenscreen? How does that affect the acting process?
Well, you have to imagine it. Because it never looks like that [he gestures to the poster of Bilbo in front of the Doors of Erebor] when you're on set. You just get a little rock and some twigs and then Pete's like – "Well, you know, it's gonna be very big. It's the elven king's halls, you know, it goes on and on and on." And I imagined yeah, it goes on and on and on. But then I watch what Pete does with it and it's like on and on and on and on and on and on, because he just makes everything so big. He makes it all so kind of jaw-dropping.

So, greenscreen, I mean, I like it. No complaints about it. It's easy to complain about it because it's just, you know, a weird thing. The colour's weird. Although one of my favorite places on set is the special effects table, because they've got like six screens up and they're all working on different shots from the movies.One of them is animating a dragon, one of them is creating the way the coins fall. At this level, it's awesome what they do, what they're capable of doing.

You worked on Pushing Daisies and Wonderfalls with Bryan Fuller, and there's been talk about Bryan Fuller wanting to cast you in season two of Hannibal. Can you talk a little about that?
Yeah, yeah, yeah, we've talked about it. He asked me to do something last year when I was doing a play here in New York City, so I didn't end up doing it. I've worked with Bryan twice before, so I'd love to be a part of this show too. I mean, whenever the right time comes, it'll be the right time to do it. I'm doing a show for AMC this year called Halt & Catch Fire. We shot the pilot already and it is – I saw it last week – it's really good.
Gallery Link:
Magazine Scans > F*** Magazine (November 2013)