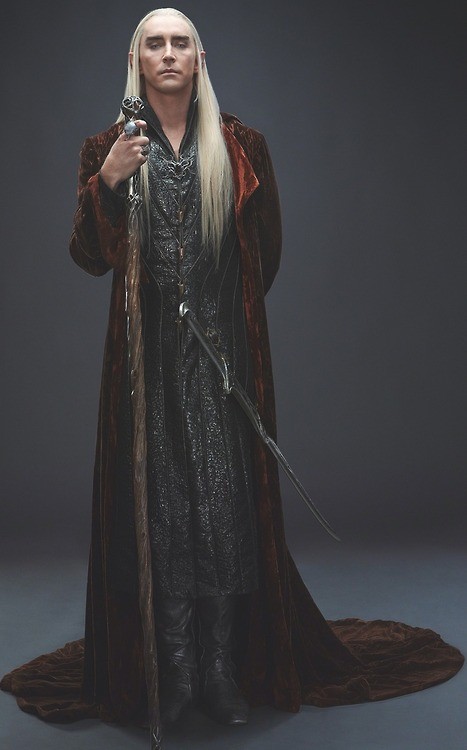 New interview is out. Lee talks Thranduil's appearance, his audition, favourite scene of The Hobbit trilogy to film and more. Thanks to this great tumblr user for translating the first two questions. The rest was translated from French using google translate, so my apologizes for any mistakes. I tried to make it understandable.
Fantasy lovers remember your wonderful performance in the film THE FALL and the cult series PUSHING DAISIES… It like the most when you play in the fantastic city, as you again in THE HOBBIT?
I do not know if you know, but Tarsem had made some Fall postproduction in your country, in Paris… On the Fantasy, I've always loved this genre which gives "carte blanche" to the imagination. It has been three years since I participated in the filming and postproduction of the Hobbit, and I must say it was a unique, truly extraordinary experience. Peter Jackson is one of the most exciting directors I've met. It can give you inspiration and make you excel. This is a bold extremely talented artist, constantly progressing and taking risks. And he knows how it should tell a story to successfully captivate people of all ages and all cultures around the world. I think we do not always realize the extraordinary achievement that is… As for me, I took a lot of pleasure to embody Thranduil, as it is a being who has many facets, and high intelligence. This is an elf with a very complex personality… It has a dark, sad nature … and it is very very very old! (laughs) I learned a lot playing Thranduil, who is also the first character elf written by Tolkien.

Peter Jackson said that your performance in The Fall was engraved in his memory. He even said that with this film, you had always been his first choice and only choice to play Thranduil… Does that mean you did not have to audition for the role?
No, no. Although this is extremely flattering and very nice from Peter, I still had to audition in New York. We read some scenes and talked about the character, especially with Philippa Boyens who knows everything of Tolkien's work. I explained to him what were the specific details that I knew about this character. But what I missed this time, it was an overview of Thranduil and his motives. And that Philippa could describe me. We know that in the original novel, he never leaves his kingdom of Middle Earth to go west, to the Elven land of Valinor. He prefers to stay where it is and continue to enjoy his immortality in his huge palace – fortress.

What did you suggest for makeup, costume and accessories of your character?
This whole process was very collaborative. I naturally wanted Thranduil to have the appearance of a king. I loved the first dress that we have came up with, and you'll see in the first scene of the second film. This is a golden tunic embroidered with gold ornamentation on which is placed a voluminous cape, almost as wide as the portrait of King Louis XIV, in which his fur-lined cloak takes up so much space. I told Ann Maskrey, our costume designer, I wanted to give him a very impressive appearance. Meaning it was necessary that one feels immediately that when he says something, people listen and obey immediately. Thranduil did not need to argue. He does not seek anyone's approval. And if we resist it, then it's a problem that is quickly resolved in his favor!

What are your favourite moments of your character in the film?
One that immediately comes to mind is the scene where I welcome Thorin and the dwarves in my fortified palace after the capture. This is a very hard, very tense confrontation between two kings. There is one side a king who reigns, and the other a deposed king from his throne and the land of his ancestors, who seeks to reclaim it. I loved working with Richard Armitage. It turns out that this is the first scene in Hobbit when I show, and I remember that I thought "What a great start!" (Laughs)

What were the most challenging aspects of working on THE HOBBIT?
The hardest thing is to achieve assimilate all the abounding information and nuances of this rich universe and to think long to play his character more precisely, most sincerely… We know that these films will be seen by tens of millions of people around the world, and we want to present their flawless performance, solid, which we have seen absolutely every aspect. This is what we must do to treat the public with the respect it deserves. We can not just leave such a project by saying that no one has perhaps done his job 120%, and it does not matter if you forgot to deal with some this thing started. In any case, I do not work like that! I wanted to know everything about Thranduil, and being directed by Peter Jackson, I was in good hands. Same for Philippa Boyens and Fran Walsh. I was surrounded by sympathetic allies who helped me to embody this character the best they knew everything. You know, I think if THE LORD OF THE RINGS and the first episode of HOBBIT have been so successful is because the public has seen that it was not the "Popcorn" films, as we say the United States. These are fantastic stories, certainly, but with a real human depth, and find resonance in each viewer.

Have you kept any accessories or prostheses from your character at the end of filming?
I kept my prosthetic elf ears and put them in a book, a bit like flowers are dried.

What are the most unusual memories you have from the Hobbit ?
Oh, probably filming battle scenes, because if you knew how many times I fell off the artificial momentum that I had to pretend to ride, you'd call me unworthy to play King of the Elves! I am terrified of use will be made of these overwhelming images in the bonus film when it comes out on DVD and Blu Ray! I waved my sword over my head like a valiant warrior, and I lost balance and I fell. And straightening me through my crown was on my head… It was heartbreaking. (laughs)
The original version can be found in two parts – here and here.